About this site...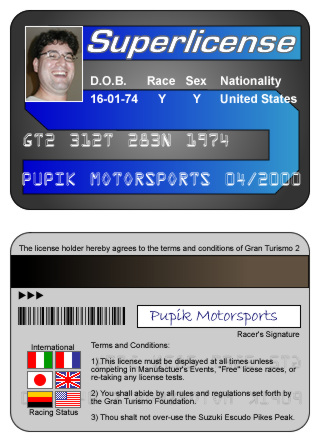 Pupik's GT2 Spot was created by Schwa Design. I am not responsible for losses or damages incured by the information or data on this website. Please use at your own risk.

This website is not intended to be an official Grand Turismo 2, Polyphony Digital, nor Sony Playstation site. Gran Turismo 1 (GT1), Gran Turismo 2 (GT2), and Gran Turismo 3 (GT3), and PlayStation (PSX, PS1, PS2) are registered trademarks of Sony Electronics and/or Polyphony Digital. The makes and models of the cars, sponsors, or names used on this website are for description purposes only.
I'm also at https://members.tripod.com/kemushi which proves I have an existence beyond GT2.
Some other links you may find helpful:
www.granturismo.com
www.gtplanet.net